Are you a coffee lover and would you like to be able to enjoy a delicious espresso or a creamy cappuccino right in your own kitchen? A dedicated coffee machine  for home use can revolutionize your morning routine and give you the experience of a real barista without having to leave the house. But how do you choose the best home espresso machine for your needs?
What are the factors to consider when buying a coffee machine?
Choosing the right coffee machine for your needs may seem like a complicated task, but with our guide, we will support you in finding the right solution so that you can enjoy a delicious coffee or creamy cappuccino right in the comfort of your own kitchen. These are the main questions to ask yourself when choosing a coffee machine.
What are your favourite beverages?
When it comes to coffee machines, the possibilities are endless. If you can't do without an authentic espresso in the morning to get the right charge to face the day, then you should consider a machine that comes complete with features to adjust and customise taste, aroma and intensity. This way, you can easily prepare an espresso rich in taste and aroma.
However, if you have a predilection for a variety of beverages such as cappuccino, latte macchiato or tea, then you should consider a machine with an automatic frothing system, which allows you to create a thick, velvety froth for the preparation of tasty milk drinks. Many machines are also equipped with a steam wand to froth milk like a real barista. Compared to automatic models, machines with a steam wand require more skill in preparing drinks. Almost all models on the market offer the possibility of preparing hot drinks and herbal teas by means of the hot water dispensing feature.
How many coffees do you prepare per day?
If you are a solitary coffee lover or live in a crowded house, the number of coffees you wish to prepare may vary. Choose a coffee machine with a capacity that suits your daily needs to avoid wasted energy or long waiting times. In the case of high volumes, we recommend a double boiler coffee machine with fast start-up and brewing times, better temperature control and more brewing power.
What kind of barista are you?
Do you want to be a home barista and enjoy the coffee-making process as an art or do you prefer the convenience of an automatic machine? Manual machines require some practice and commitment, but allow you to customise each cup. On the other hand, automatic machines simplify the process and offer high-quality coffee with little effort.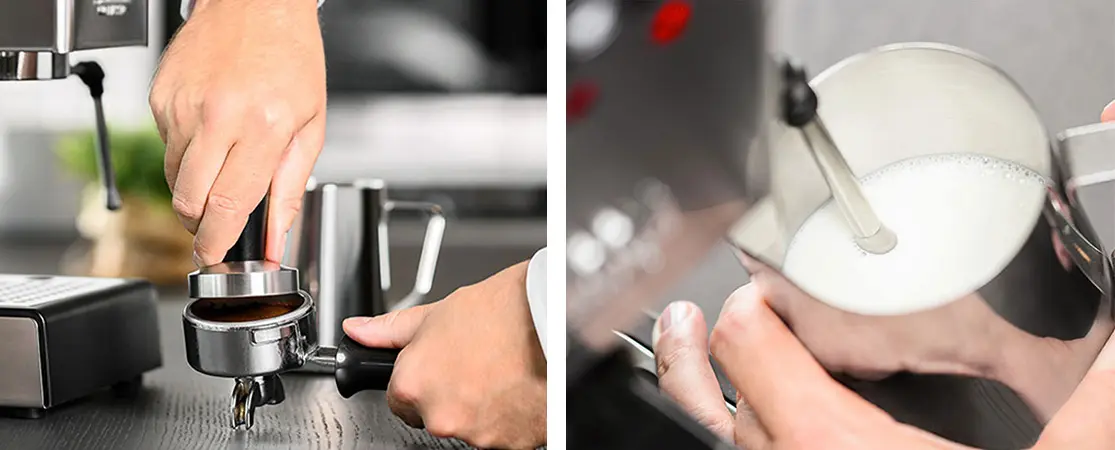 What is your skill level in coffee preparation?
Whether you are a novice or an expert in coffee preparation, there is a coffee machine to suit your level of experience. If you are starting from scratch and want to enjoy delicious coffee without the skills of a professional barista consider buying a machine with automated functions and preset recipes. If, on the other hand, you are an experienced barista and wish to have full control over every aspect of preparation, there are machines with pre-infusion and temperature control features that can meet all your customisation needs. You can opt for a manual machine that allows you to manually adjust every step of the process from water temperature to extraction pressure. These machines are ideal for enthusiasts who like to experiment with different brewing techniques and customise each cup of coffee to their own taste.
What space do you have available?
Before buying a coffee machine, consider the available space in your kitchen. If you have a small kitchen, you can opt for a compact machine that easily fits on your countertop. In this case, automatic machines that also include the grinder in a single component are ideal for saving space. Conversely, if you have a larger space, you can choose a semi-automatic or manual machine to combine with a grinder to create a true barista station right inside your kitchen.
How much time do you have for coffee preparation?
If you are a person who is always in a hurry, opt for a coffee machine that allows you to get your favourite coffee as quickly as possible with just the push of a single button. Some automatic machines or pod models offer fast brewing times, while manual or semi-automatic machines require a little more time for high-quality preparation. Carefully evaluate the time you are willing to devote to coffee preparation to find the right machine for your needs.
Do you prefer coffee in pods, beans or powder form?
Besides considering the different factors when choosing a coffee machine, it is important to decide which type of coffee you would like to use: pods, beans or powder coffee. Each has its own characteristics and advantages, and the choice depends on your personal preferences.
If you prefer convenience, pods are the ideal choice for you. Pods are pre-packaged portions that are inserted directly into the machine. Pods are available in a wide range of flavours, intensities and are also very convenient to clean, as they do not require cleaning of the ground coffee.
If you want to have full control over the grinding and freshness of your coffee, then you should opt for coffee beans. By using a coffee grinder, you can grind fresh beans at the time of use, preserving the most intense aromas and flavours. Coffee beans also offer more flexibility in the choice of origins and roasts, allowing you to explore a wide range of flavours and aromas.
Finally, if you wish to use coffee powder, you can opt for pre-ground coffee or use a coffee machine that allows the use of coffee powder. This option is convenient and may be suitable for those who prefer to avoid grinding beans or want to use instant coffee for convenience.
Coffee machine price: how to find the balance between quality and budget?
The price of the coffee machine is an important element to consider during your search. Coffee machines can vary greatly in price, so it is essential to establish a budget and find a balance between the quality of coffee you want and your financial possibilities. Keep in mind that the cost of the coffee machine should not be the only decision factor. Also consider the costs of consumables, such as the price of the pods or ground coffee that you will use with the machine. Remember that a quality coffee machine is an investment in your daily coffee enjoyment, but that doesn't mean you have to spend a fortune to get it. With a little research and comparison, you can find a coffee machine that offers great value for money and fits your needs and budget.
What are our suggestions for a home coffee machine?
After carefully examining the factors to consider, here are some coffee machines that can be an excellent choice for home use.
The elegance of homemade coffee
The Gaggia Classic Evo is a semi-automatic coffee machine that can personalise the art and tradition of Italian espresso. With its elegant design and high-quality performance, this machine offers you the chance to enjoy an authentic espresso right at home.
The Classic Evo is equipped with a professional brass brewing unit, which guarantees stable temperature and pressure for optimal coffee extraction. You can manually adjust the temperature and water flow to adapt the preparation to your personal preferences. In addition, it has a steam wand that allows you to create a thick, velvety froth to prepare cappuccinos and other milk-based drinks. Thanks to the pressurised filter holder, you can make perfect coffee even if your barista skills are still basic. The Gaggia Classic Evo is easy to use and clean, thanks to its intuitive design and washable removable parts. In addition, its solid and durable construction guarantees a long service life.
The excellence of authentic coffee at home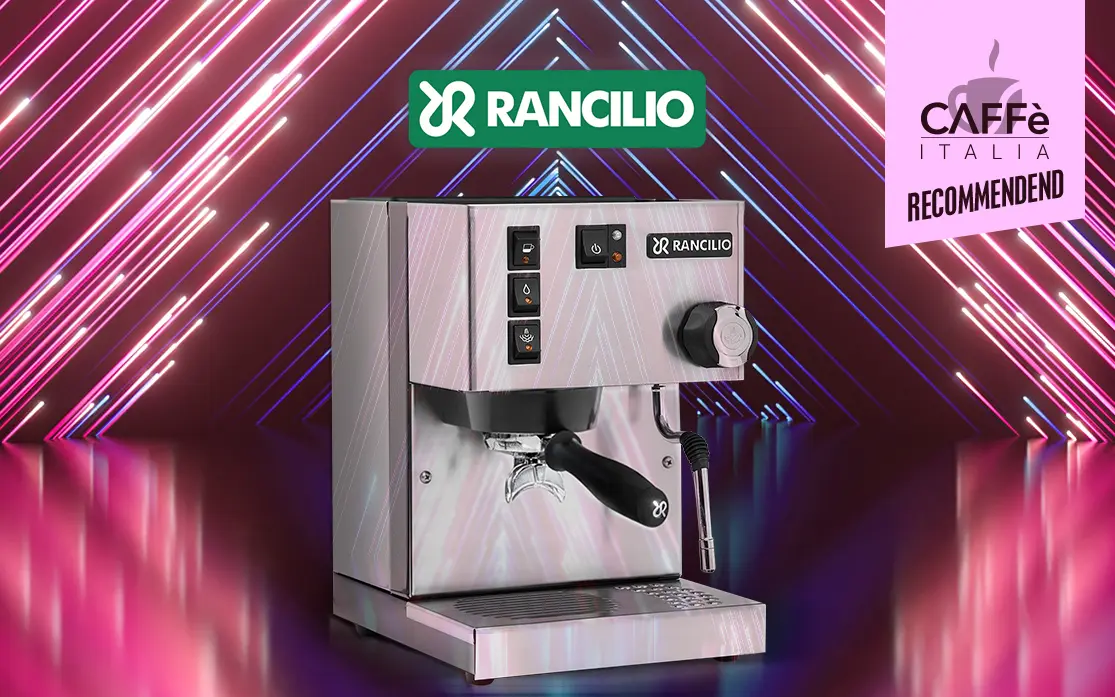 The Rancilio Silvia is a high-quality semi-automatic coffee machine renowned for its precision and reliability. Equipped with a chrome-plated brass brewing unit, the Silvia guarantees optimal thermal stability during coffee extraction, allowing you to obtain a creamy, aromatic espresso coffee.
The Rancilio Silvia gives you maximum control over the preparation through manual control of the coffee temperature and water pressure. This allows you to customise each cup of coffee according to your preferences, creating a unique expression of your taste. The machine is equipped with a professional steam wand to create creamy milk foam for cappuccinos and other milk-based drinks. The Rancilio Silvia is built with high quality materials and offers a robustness that guarantees a long life. It is easy to maintain thanks to its removable parts, which can be easily cleaned and replaced if necessary.
The art of personalised espresso at your fingertips
The Sage Barista Express is a complete coffee machine that allows you to experience the art of espresso coffee like a real barista right in your own kitchen. The Barista Express gives you complete control over coffee preparation, thanks to its integrated coffee grinder with stainless steel grinder. You can grind the beans fresh at the time of use, allowing you to achieve incomparable freshness and aroma.
With the Barista Express, in addition to adjusting the grinding degree, you can manually control the water temperature and the extraction pressure. In addition, the machine is equipped with a steam milk frothing system to create a creamy froth for cappuccinos and other milk-based drinks.
The elegance of automation and the versatility of milk-based drinks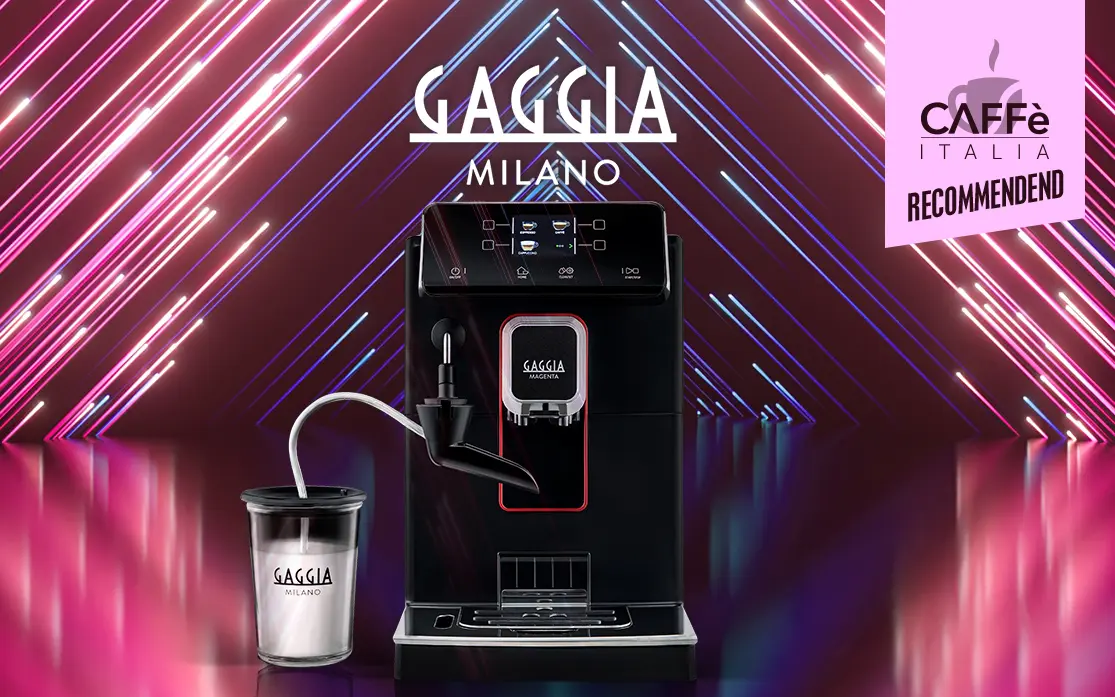 The Gaggia Magenta Milk is an automatic coffee machine that combines the elegance of design and the simplicity of automation with the versatility of milk-based drinks. The Magenta Milk is equipped with a coffee delivery system that guarantees optimal temperature and pressure levels at all times. Thanks to the automatic milk frothing system, you can create a creamy, velvety froth for cappuccinos and other milk-based drinks. Just select the desired option on the control panel and at the touch of a button the machine will do all the work for you.
The quick brew feature reduces heating and brewing times to get your coffee faster. In addition, the machine has a large water tank and a convenient integrated, removable milk container, allowing you to prepare more drinks without having to refill them frequently. The milk jug, once used, can be easily removed and stored in the fridge.
The automatic cleaning system and removable parts allow for easy and convenient cleaning. In addition, the modern design and elegant finish make the Magenta Milk an excellent aesthetic addition to your kitchen
A great place to choose the perfect coffee machine
Choosing the perfect coffee machine for your home is an investment that will make every cup of coffee an exceptional experience. Carefully consider the factors listed in our guide and you will find the coffee machine that meets all your needs.
The Caffè Italia online store presents a wide assortment of brands and models that will allow you to find the coffee machine of your dreams. Choose from the wide selection of manual, semi-automatic or super-automatic brands and models to get ready to enjoy the perfect coffee at home.